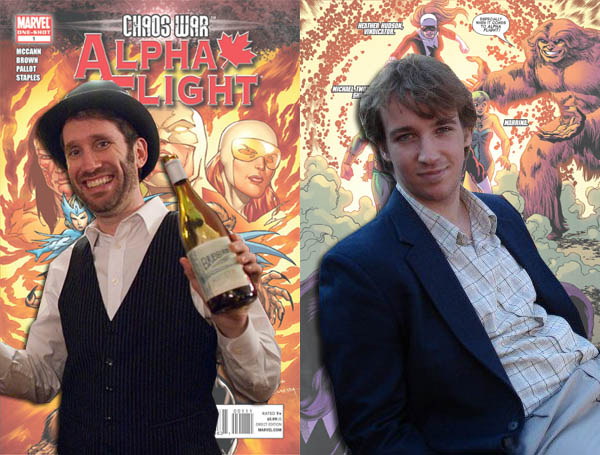 The day before the launch of Chaos War: Alpha Flight, I was thrilled to discuss the book, Alpha Flight in general, and much more with writer Jim McCann, and artist Reilly Brown.

Please visit Reilly Brown's Deviant Art Page, Jim McCann's Home page, and his Return of the Dapper Men site

On Twitter Jim can be reached at:
@JimMcCann and Reilly can be reached at:
@Reilly_Brown

--- Ben Wells, editor.
AlphaFlight.net:
Gentlemen, I'd like to thank you both for joining me today.

Jim McCann:
Thanks for having us!

Reilly Brown:
My pleasure!

AlphaFlight.net:
To start off, in general what would you consider your early comic book influences?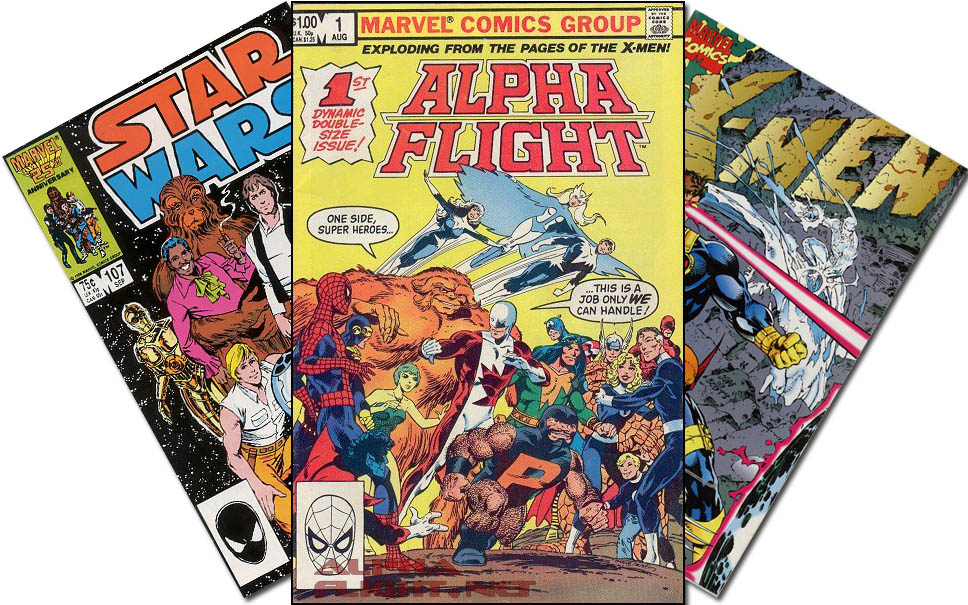 Reilly Brown
: Hmm, For me, I'd say it was a lot of Jim Lee, John Romita Jr, Masamune Shiro, and a lot of art from video game manuals. Those were the biggest influences early on. Oh, another big influence for me were all those Marvel trading cards in the 90's.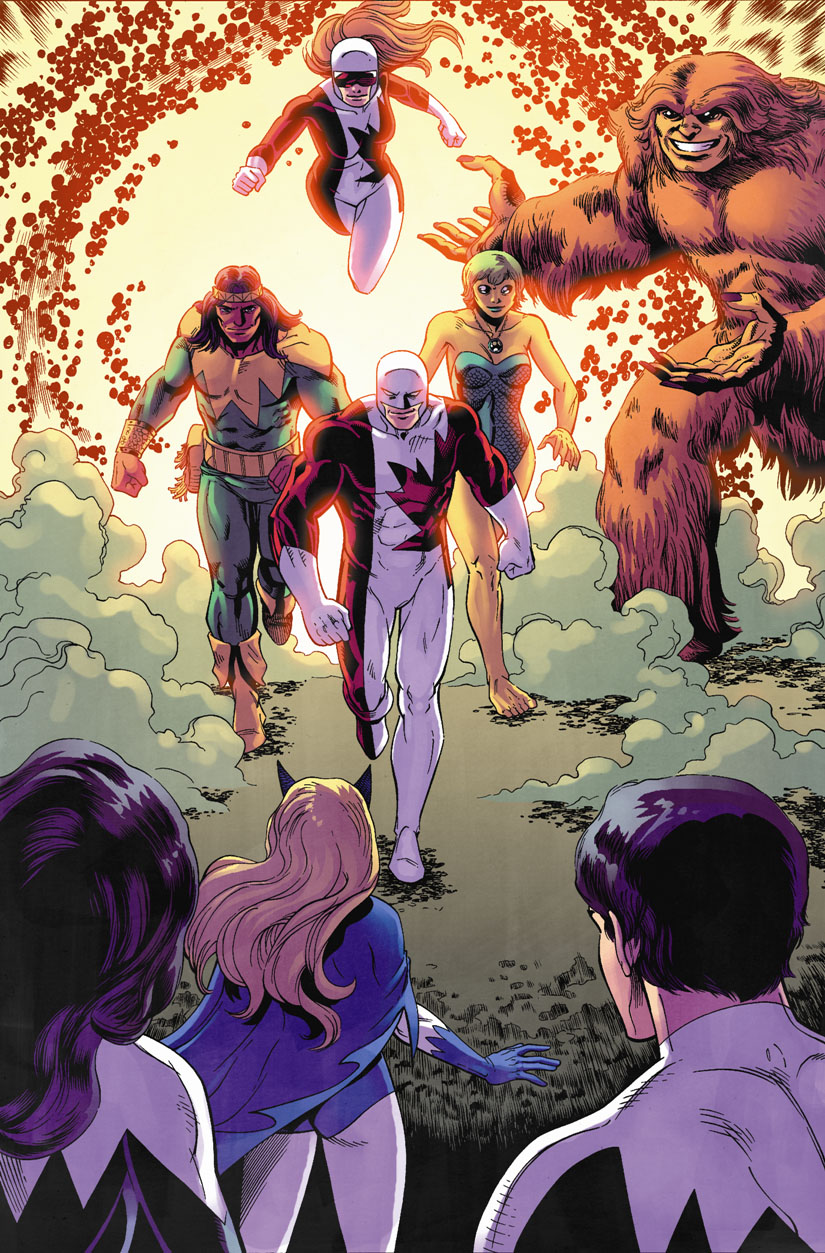 J
im McCann: My first comics were Claremont's X-Men run circa the Brood Saga, Gruenwald's Hawkeye mini, Marvel's GI Joe, and (honestly here) Alpha Flight! Then I really got into all things Avengers and Cap, in addition to keeping up with mutants and the Flight all the way until the end.

AlphaFlight.net:
Always nice to see a long time Alpha Flight fan working on the title.

Jim McCann:
It's been a dream come true! I loved the dysfunction of the Byrne era that he set up and the anything-can-happen feeling that was there from the beginning.

AlphaFlight.net:
Reilly, since you were a fan of Lee, did you follow his Alpha Flight (one of his first major breaks) run, or did you discover him later in his career?

Reilly Brown:
It was his X-Men run that I first read. That's some of the stuff that first got me into comics in middle school. I didn't even know he'd worked on Alpha Flight until later.

AlphaFlight.net:
What got both you into the comic industry in the first place?

Reilly Brown:
I always wanted to be an artist when I was a kid, and when the X-Men cartoon came out in the 90's it led me to the X-Men comics, and the second I saw one of those, I knew exactly what kind of artist I wanted to be! Ever since then, being a comic artist was always kind of the plan. I went to Virginia Commonwealth University and studied illustration, and started doing some small-press stuff, and a little while after graduating I got my first Marvel gig.


Jim McCann:
A wish on my birthday candles when turned 13. I've been wanting to write for Marvel since I read my first comic at age 10. I never stopped reading and in college, did everything I could to hone my writing craft, from writing plays, to radio commercials, and screenplays. I even pitched a Northstar story to Marvel while I was in college! About 5 years after graduating, I was accepted into the ABC Writer Development program and wrote for soaps. When I turned 30, I moved to NYC with no job, just the hope of writing. I was hired by the Marvel offices within 2 months.
I worked my way up and eventually transitioned into writing, starting with 8 pg stories & one-shots, then Mockingbird's return gave me my big break with NEW AVENGERS: THE REUNION. Since then I have been lucky to write some of my all-time favourite characters as well as my first creator owned OGN.

AlphaFlight.net:
Did you ever get a response on that Northstar proposal, Jim?


Jim M
cCann:
I actually did get notes on that pitch from Tom DeFalco, I think (or maybe it was Bob Harras). It was...not great. Everything was forced and just sort of happened because I wanted to see fun cool things. Aurora was in it as well, not for character development, but because I wanted to see the twins fight and then make a big light burst. I think I've grown as a writer in the past 15 years...LOL

Reilly Brown:
Waitaminit. . . Isn't that the plot of the Alpha Flight issue I just drew??

Jim McCann
: Yeah, it pretty much is. So maybe I HAVEN'T grown, just refined how I get the pieces in place to do crazy stuff with them. LOL


AlphaFlight.net:
Maybe you can dust it off and update it!

Jim McCann
: Ben, no lie, it was written on an Apple IIe and saved on a floppy disc somewhere. My parents may have a printed copy somewhere in the attic back in Nashville!


AlphaFlight.net:
Get them to hang on to that, could be worth something some day.
I have a few very basic Alpha-centric questions for the fans:
Who's Your favourite Alpha Flight Character?

Reilly Brown
: I think Shaman might be my favorite, but Snowbird and Sasquatch are my favorite to draw.


J
im McCann:
My favorites are probably Heather & Sasquatch, for opposite reasons. Heather really grew and came into her own - I love strong female characters. Walt is just as stubborn as ever and still makes rash decisions even if for the best reasons. (I also love Puck & Box, although I didn't get to use them here).

AlphaFlight.net:
Favourite Alpha Flight writer?

Reilly Brown:
Present company excepted, I really like the way John Byrne originally set the team up.

Jim McCann:
Same here. LOL

Reilly Brown:
I liked the way that each issue would really focus on individual characters, so that they all had their moment in the spotlight, and I really liked how he'd subtly handle the off-panel relationships between characters with innuendo and subtext. It made it feel like there was a lot more to the characters than what was just visible on the page.

Jim McCann:
Yeah, I REALLY liked that each of those first 8-9 issues set up each character but still moved the mythology closer and c
loser to the big confrontation. Then the post #12 issues through issue 28 was just spot on regarding grief and a team falling apart and coming back together.
I also loved that there were origin stories in those first issues as back-ups.


Reilly Brown:
Yeah, I liked the origin stories too! It was a smart way to fit more characters into a single issue when the main story would just focus on a single person.

Jim McCann:
OH crap, how could I forget my love of Talisman, by the way? That question reminded about how much I loved the way Byrne portrayed a father/daughter.


Reilly Brown:
Didn't
she punch her dad in the face when she first showed up?

Jim McCann:
Yup! Loved it.


Reilly Brown:
Thanksgiving must be interesting in the McCann household. . .

AlphaFlight.net:
Favourite Alpha Flight Artist?

Reilly Brown:
Again, I really liked Byrne's take on the characters-- especially when they originally appeared in those Uncanny X-Men issues. I also like Jim Lee's run on the book. It's interesting to see him first cut his teeth in the comic book industry

Jim McCann:
Not to sound like a broken record, but Byrne drew them with the appropriate weight and energy. Sasquatch felt like he moved quickly when running, but unstoppable and unmoving. Puck literally bounced, not just in a panel, but for real to me. The twins were lithe and fast and light. Shaman was so regal and Snowbird so otherworldly. And you could easily track Heather's progression.
I liked later artists as well, especially when we got into more Omega Flight stuff and Persuasion, but Byrne is a standout.

AlphaFlight.net:
Did you use those Byrne issues as a kind of character study be it in art for your Reilly, or in writing for you Jim?

Reilly Brown:
I definitely did.

Jim McCann:
As for using Byrne issues, I have to say, I haven't seen anyone draw them like Byrne until Reilly, honestly. And I don't mean in a tracing or swiping- Reilly just GOT them, you know?
With writing, I tried to keep to the spirit of the original characters as much as humanly possible since this was a reunion of the original team (sans Puck, who <SPOILERS> is in Hell with Wolvie).
They make human mistakes and they also tend to create their own worst enemies through their actions.

Reilly Brown:
Thanks man, I was really going for a Byrne-era feel. There was one issue in particular that I wanted to use as reference, and couldn't find a copy around, so I kept bugging Jim to scan more pages in and send them to me for reference!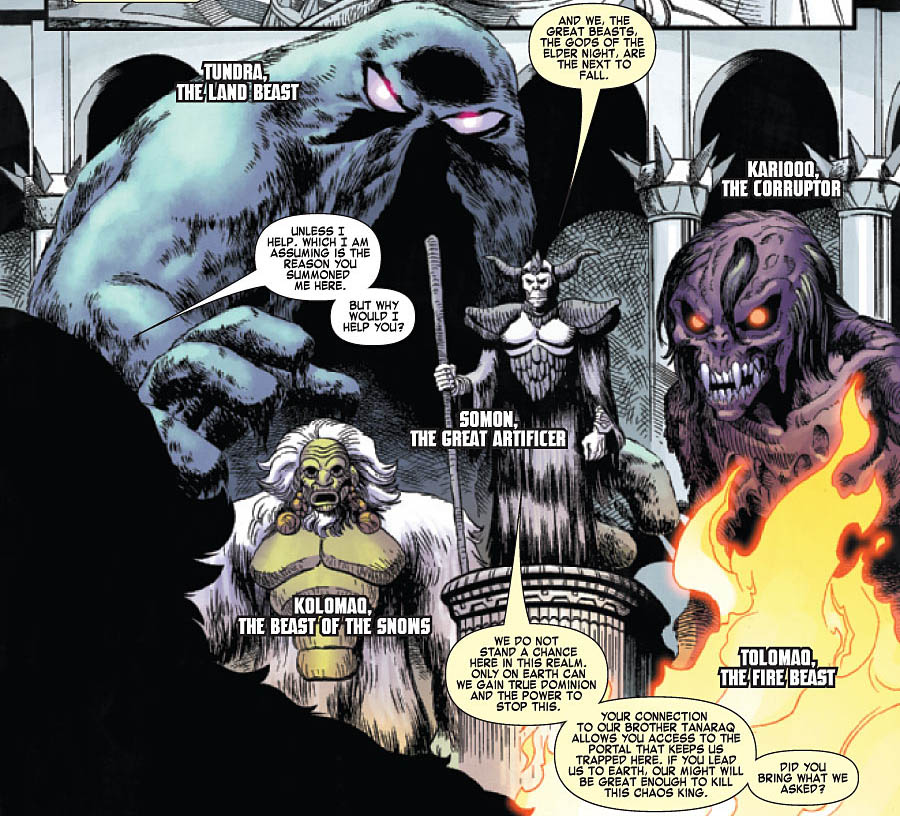 AlphaFlight.net:
Well, Reilly, you certainly have the best Great Beasts since Byrne!

Jim McCann:
His Beasts are amazing, right? But wait until you see the whole team in action!
And there is ANOTHER baddie we haven't revealed that he just nailed.

AlphaFlight.net:
I'm waiting...until tomorrow!

If you were to be stuck on a desert island with one member of Alpha Flight, Who would it be?

Reilly Brown
: Marina-- she could get us off the damn island in a minute!

Jim McCann
: Shaman. He could get us anything out of that pouch. Marrina is cheating! She'd turn all Plodex on you and eat you for using her that way.

Reilly Brown:
Yeah, but she's not crazy like Aurora is. Can you imagine having to deal with her for the rest of your life with no escape?

AlphaFlight.net:
At least with Aurora, it would be like getting stuck with several people...plus she's hot ...
Don't tell my wife I said that!

Reilly Brown:
All the crazy ones are. .

Jim McCann:
True, but if you get stuck with the nun, it's no fun.

AlphaFlight.net:
What is it about Alpha Flight that strikes a chord with you?


Reilly Brown:
All the characters have really strong personalities, and interesting relationships with each other. That's something I always gravitate toward.

Jim McCann:
The humanity and mistakes. I love flawed characters and I love the family-aspect of it. It reminds me of the Perez-era Avengers, or the X-Men from Giant Sized through the Austrailian Outback.

AlphaFlight.net:
Tell me how it happened that you both came together to work on Chaos War: Alpha Flight?

Reilly Brown
: I. . . Actually have no idea! Jim just came up to my table at San Diego and said "man, I'm so psyched to start working on my next project with you!" And I was like "What project?"

Jim McCann
: I've made it no secret at all that I want to write Alpha Flight. I've been pushing for it for years. I finally got my chance when Jordan White (our editor) asked me if I'd like to write Alpha Flight and said I could use the original team. I jumped on that right away. And hopefully people enjoy it, and want to see more from us - I would LOVE to do a full mini or (dare I say it) ONGOING with Reilly!

Reilly Brown:
That would certainly be fun.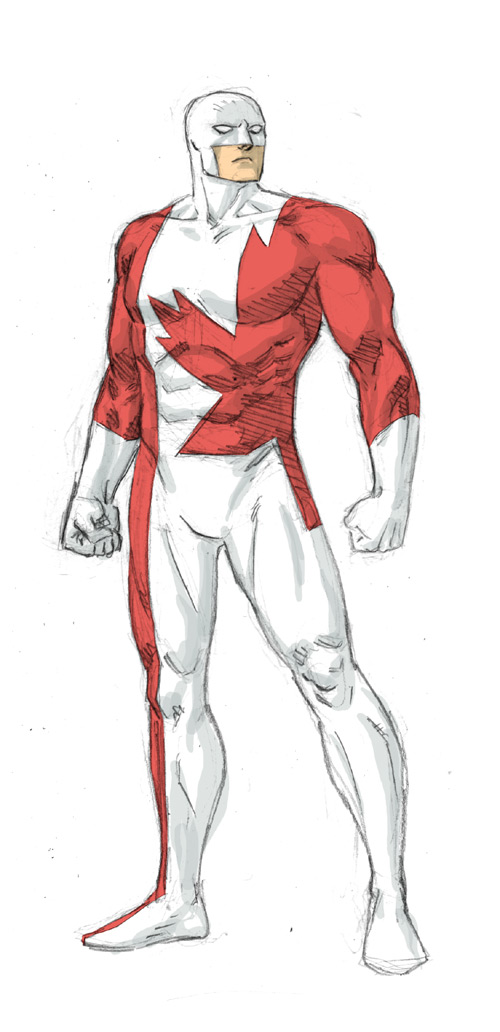 AlphaFlight.net:
Let's cross our fingers for that! Did any real challenges present themselves working on this book?


Reilly Brown:
There were a lot of characters to draw. . . Like, A LOT of them! Not just the Alphas, but the bad guys too.


Jim McCann:
It was REALLY difficult juggling the characters. Again, they have so much emotion and this was a big reunion with questionable means that immediately tears people apart ideologically, AND it's an event tie-in. So I wanted to give each character a moment, and also "clean up" some of the weirdness that's happened to them over the years (I NEVER want to read "Space/Time Temporals" or whatever that was again. I'd rather hear about Xorn first...and I loathe Xorn).
And I wanted to make sure that the team got to rejoice before fighting the reason they are together...and against each other.

Reilly Brown
: I have to say you did an awesome job of juggling all that.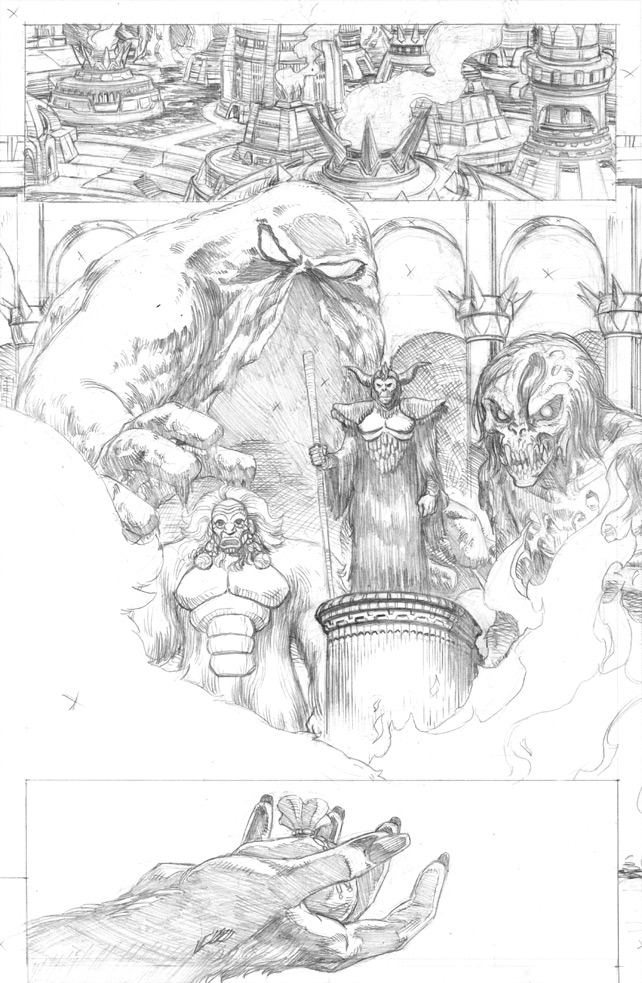 Jim McCann:
Thanks, Reilly! You did an amazing job at fitting it in on the page and also visually showing the bad-assery of the team members.
There are some MIND-BLOWING spreads (the team first going into action will make you scream "YES!") and the last page is...stunning.


Reilly Brown:
I wanted to make sure every character got their moment too, so I really tried to make sure everyone was shown doing something really cool at least once. And to make the emotional roller coaster of the whole issue clear. I wish we could have had more room to explore some more of that. Thanks a lot! I really have to hand it to Terry Pallot on inks and Val Staples on coloring for helping me out there. Those guys really rose to the occasion and brought their 'A' game.


Jim McCann: The entire art team needs a HUGE round of applause. This is one AWESOME looking book

AlphaFlight.net:
Aww shucks, you guys are making me tear up. Let's see a hug...

Jim McCann:
G-hug? Has Goggle invented that yet? Or is Apple working on it?


Reilly Brown: I'm pretty sure they have an app.


AlphaFlight.net: Yes, the i-Hug...

What was your major goal on working on Chaos War: Alpha Flight?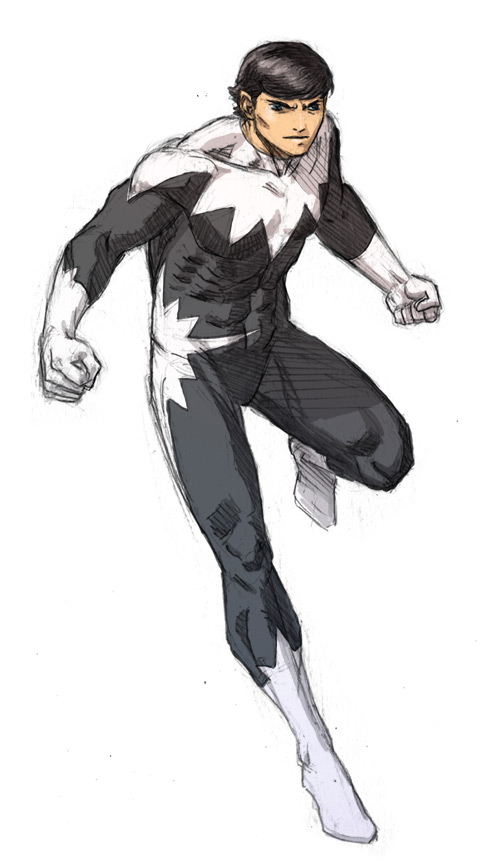 Jim McCann: The major goal for me was to keep it clean and accessible. Much like Mockingbird, people hadn't seen them in this way in a long time and there was even more with Alpha to dig through and get to the emotional core. I want people to know that Alpha Flight isn't Canada's X-Men or Avengers - they are their own team, and they rule. So, I tried to show just that - what makes them special, unique, and rule-ery! (I made up that word.)


Reilly Brown: It's hard to say what my main goal was without giving away too much of the story, but their are some pretty emotional moments in the plot that come from a story about death and resurrection, and I really wanted to get that across.


Look at you making up words-- just like Shakespeare and Sarah Palin!


Jim McCann: I only approve of half of that statement, Reilly.

Reilly Brown: Dude, word of the year!

AlphaFlight.net: Would you say that you were trying to appeal both old (classic) fans and new ones alike? Was that a difficult balance to reach?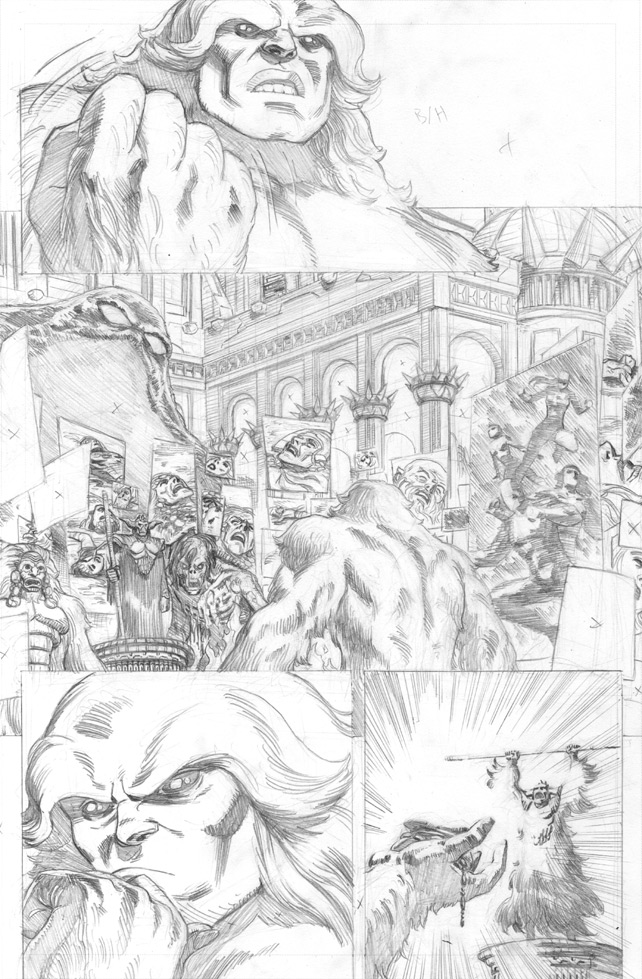 Jim McCann: All - old fans, newer fans, and people curious as to why Alpha Flight has such a strong following. As for difficulty, once I set aside the feeling that I had to address every single bit of continuity in 22 pages (this is a comic, after all, not a Handbook entry), I got to the core of the team, their villains, and the threat of the issue. Now, there ARE a few loose ends I try to address, but they are in dialogue, so read carefully. Then look at the awesome pictures again.


Reilly Brown: I think with a book like Alpha Flight, which has such a loyal fan following but hasn't been around in awhile, you really do have to try to appeal to old and new fans alike.


AlphaFlight.net: I'm sure those loose ends will be tied up when Marvel gives the go-ahead for an ongoing... Do either of you feel any different about Alpha Flight after getting to work on the book?

Jim McCann: I have a deeper appreciation for the psychology of the book. There honestly isn't a team at Marvel that displays such a complex psychological make-up than Alpha Flight. Their functions and dysfunctions are equal and the richness of character development is so strong. I love them even more now.


Reilly Brown: I certainly feel like I know the characters better now than I used to. Having to get into their heads to figure out how they'd react to each other and the situation is something you don't have to do as much until you actually work on the book.


AlphaFlight.net: Jim, did you have any big ideas or plans you wanted to accomplish but could not, be it with limitations of the one issue, or with editorial decisions?


Jim McCann: There were a few things that changed from concept to execution, but I am very happy with the finished product and think that it makes for a stronger book. I'll be honest, I wish we could have had a mini like Dead Avengers, but I am BEYOND thankful we got an issue after everything Alpha Flight has gone through over the past decade.

AlphaFlight.net: Every set of writers and artists find working together different. How did you gentlemen find the collaborative process worked together?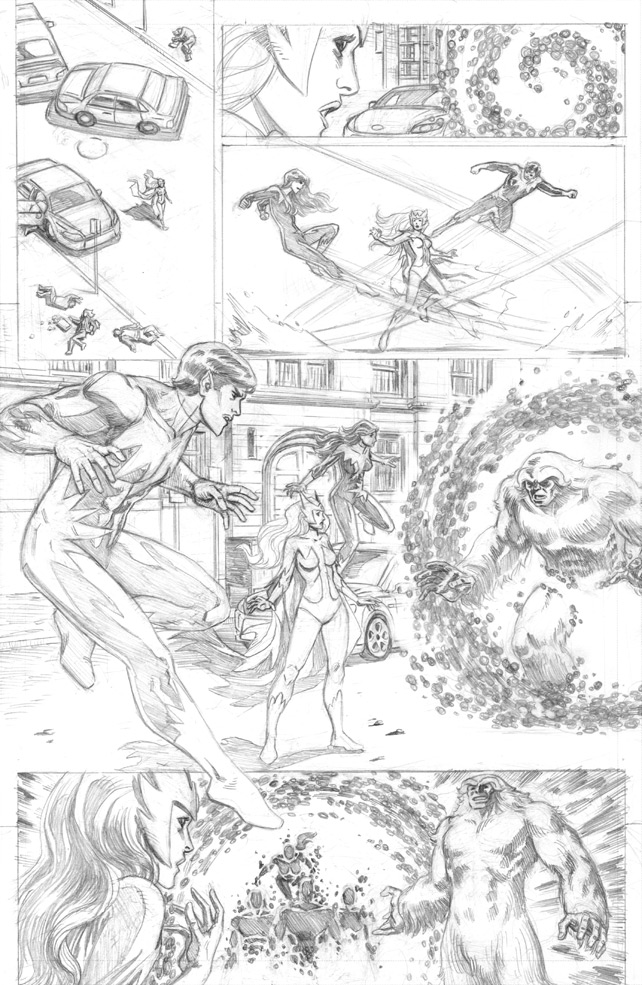 Jim McCann: Honestly, Reilly deserves an award. This script called for literally 100+ characters and he delivered. In spades!

Reilly Brown: It was great. I like to be able to communicate easily with the other people that I work with, and Jim was always available to answer a question over the phone or help find reference over e-mail.


Jim McCann: I don't know that I asked for any changes to be made at all on the art he drew - I felt like I was getting Christmas with each email.


Reilly Brown: Hey, it was a great script, like you said in a conversation we had early on, this might be the one chance we have to reunite the original team, so I really wanted to make it count!

Jim McCann: Aw thanks! And I feel like we both really did everything to do just that - make this count!

AlphaFlight.net: i-Hug!!


Reilly Brown: Ha ha!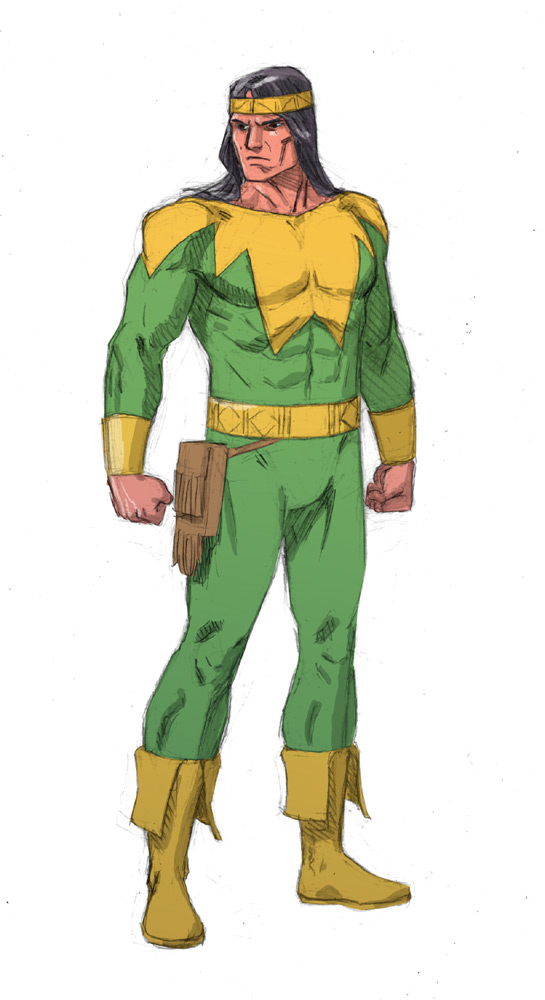 AlphaFlight.net: Many fans have a feeling that Marvel has tended to dismiss, or even ridicule Alpha Flight over the years. In working on Chaos War: Alpha Flight, how did Marvel's general opinion , or outlook on Alpha Flight strike you?


Jim McCann: I think that's an outsider's view based on things that have happened to the team. Part of Marvel's fun and joy is the ability to be self-deprecating with everything. That's been a staple for decades.

In working on CW: Alpha Flight, one thing is clear - Marvel did not have to include them in this story.

But once they were, their story is an integral one to Chaos War. There was as much respect and care given
to this project as any that I've worked on.


Reilly Brown: I was unaware of any condescension toward the team from Marvel or anything like that.
They have a reputation as being Canada's Avengers going all the way back to John Byrne's run, so you'll see the comparison made, but I always felt like it was in good humour.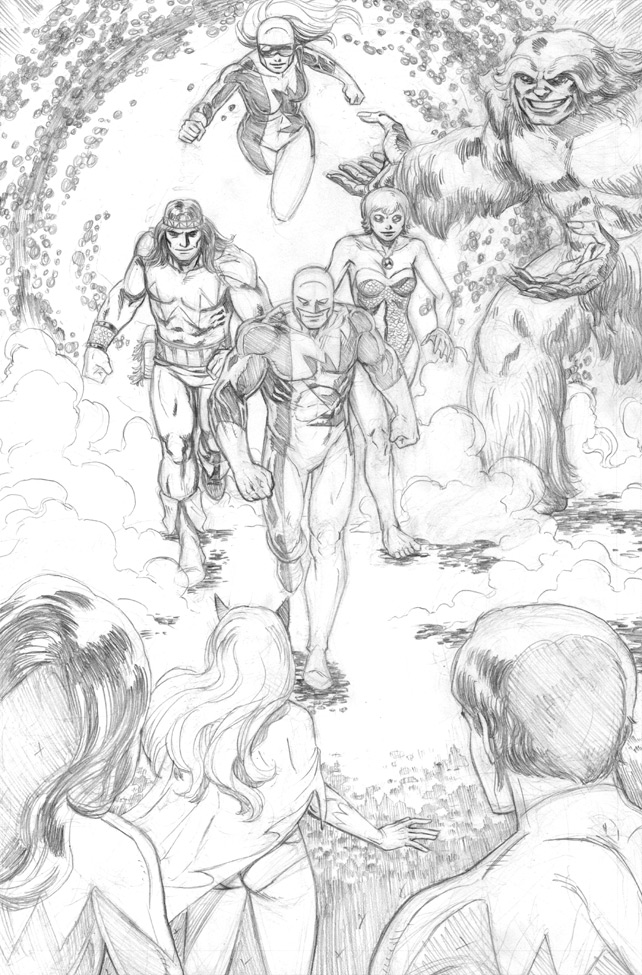 AlphaFlight.net: Fans will be glad to hear that. I think as a whole Alpha Flight fans have felt the team hasn't been given it's due over the years, so certain jaded impressions may have been formed.


With the X-files-ish Volume 2, the slapstick Volume 3, to the darker, more modern Omega Flight - I'm sure fans are curious about your impressions of the past Alpha Flight titles.


Jim McCann: Each writer tried their own thing. Personally, Wanda Langowski was insane to me. There are a lot of strange incarnations of any title, line-ups, etc. Personally, Volume 3 wasn't really something I enjoyed - it was too confusing. Omega Flight was cut-short - I think it could have developed into something. But I think fans (and myself) hold Alpha Flight up to the first volume (especially Byrne's run and some key arcs in Volume 1) and expect everything to be like that. I think it's possible to do a book like that, but you have to do something to attract beyond the core fan base, so something surprising or experimental is often employed. I believe the book can exist if you keep true to the characters' dynamic in Volume 1 and don't get too convoluted with the already muddy continuity.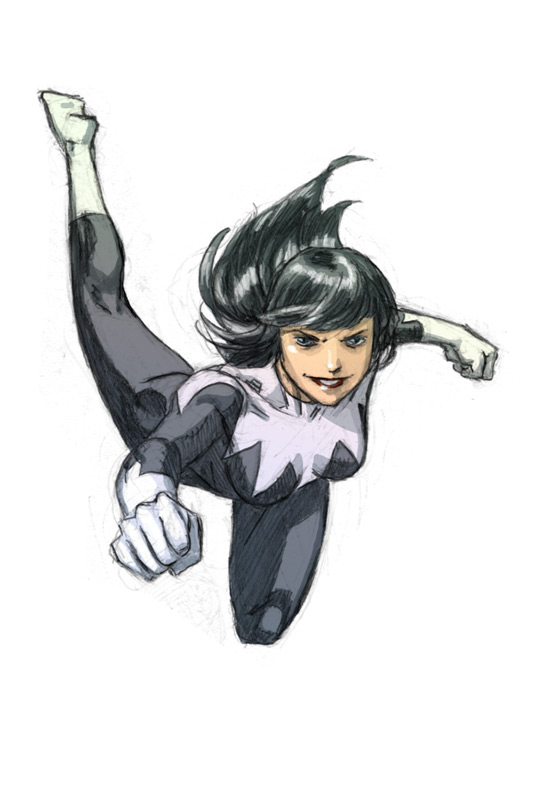 Reilly Brown: I feel like a lot of attempts were made to make them not "Canada's Avengers" -- to give the book it's own unique voice -- and a lot of the ideas behind those attempts have been to move away from the more traditional super hero-type stories, or at least to give it a different hook.
I think our issue gets back to the more traditional superhero roots, playing up more of the family drama that has naturally grown into the title over the years.

Jim, do you think that's an accurate take?


Jim McCann: Yes, Reilly, that's totally what I think our book tries to do, and succeeds in my opinion.


AlphaFlight.net: As long as we never mention Temporal Copies again...


Jim McCann: Ben, what did I say about Temporal Copies? *vomits*

Reilly Brown: You realize you're totally alienating all our readers who are from different time streams, don't you?


Jim McCann: This is something I am really proud of and I hope that it's something that excites new readers and the faithful fans alike! In different time streams, I am probably not a writer...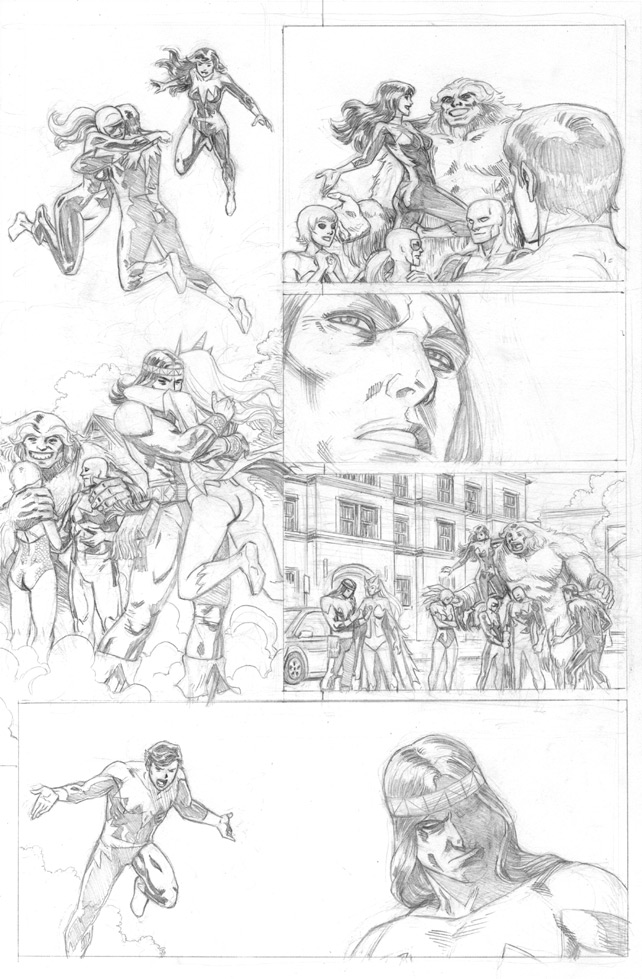 AlphaFlight.net: Generally, how do you feel about the final Chaos War: Alpha Flight product?

Reilly Brown: I'm really proud of it! I think it's going to be a kick ass issue, and hopefully if sales are good and word of mouth spreads. . . who knows what we'll be able to convince the higher ups of in regards to the future. . .

AlphaFlight.net: I know that big question on just about every fan's mind is about the future. Have either of you been spoken to about the possibility of future AF projects, or even an ongoing book?


Jim McCann: I've talked about it, but who knows-- everything depends on sales and readers communicating to both Marvel directly and especially their retailers. As with any book, the most powerful tool a fan has is their retailer. Make sure they know that you want more of this (from this creative team if you like us) and ask them to please let Marvel know.

Reilly Brown: Yeah, like Jim said, you've got to let people know if you want more of something. Just posting to your friends on message boards doesn't get the word out, you really need to write in.


AlphaFlight.net: Any projects you are working on now you'd like to share with the fans?

Jim McCann: I just wrapped writing Widowmaker - the Hawkeye/Mockingbird/Black Widow/Ronin event, and am starting Hawkeye: Blind Spot.
I've also just released my first creator-owned graphic novel from Archaia - RETURN OF THE DAPPER MEN, which is unlike ANYTHING I've done before, so give it a read!

Reilly Brown: Yeah, for real! Check that book out! It's awesome and definitely a unique graphic novel!

Jim McCann: Thanks man!


Reilly Brown: As far as future projects for me, I'm currently working on a couple of Amazing Spider-Man backup stories, as well as a cover for some Thor book that's coming out next year. I'm also working on a creator-owned project of my own that's a little too early to talk about, but hopefully I'll be releasing more information about that soon. Hopefully within the first few months of 2011.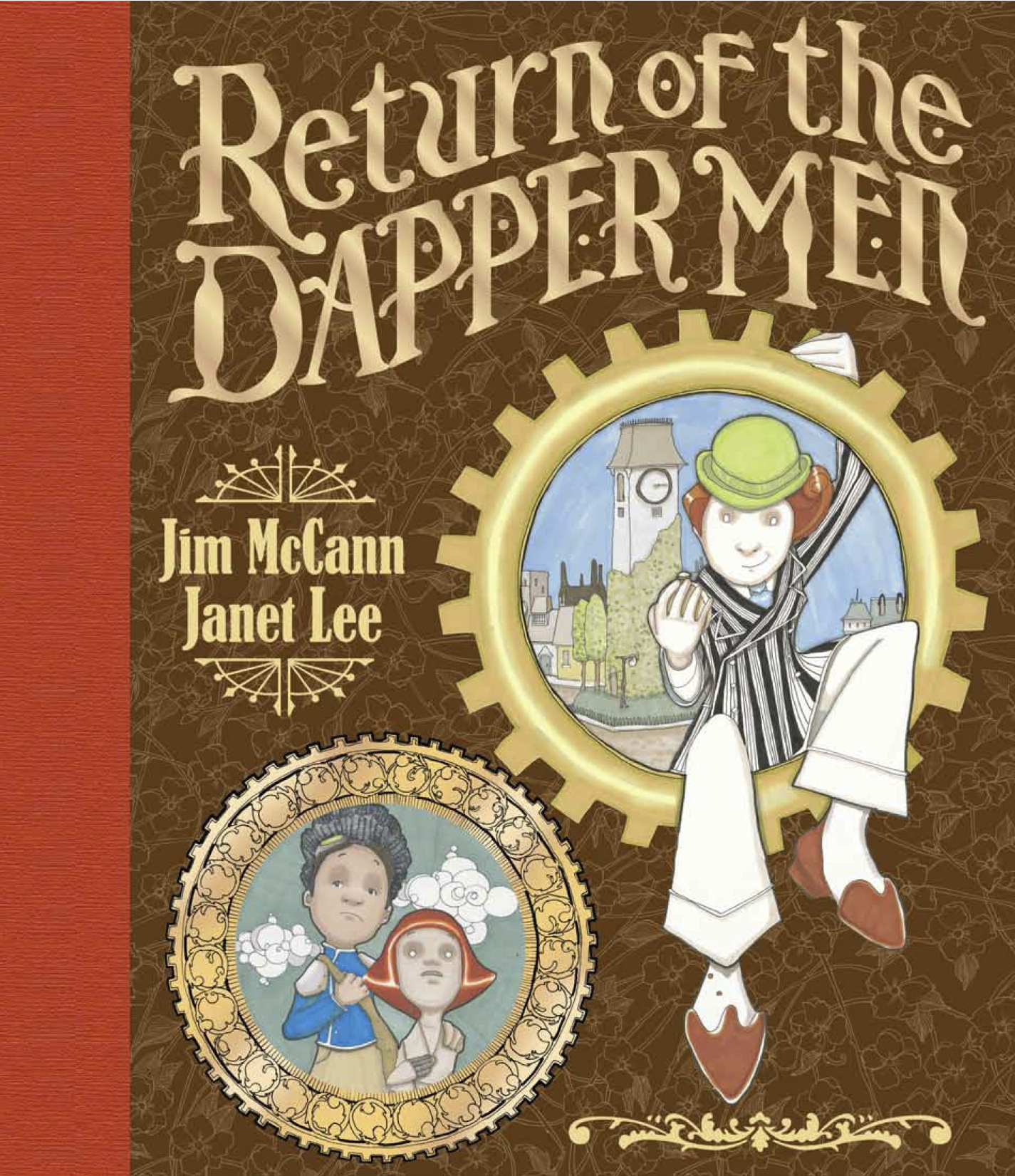 Jim McCann: Oooh, Reilly! Exciting! Looking forward to that!


AlphaFlight.net: Do either of you have any final words for the fans?


Jim McCann: Fans rejoice: The Flight is back! Even if just for this issue, enjoy it and spread the word!! And thank you to the contributors of AlphaFlight.net - Reilly and I used you guys for a LOT of research & reference!!! You guys rule!

Reilly Brown: Hell yeah we did! I had your gallery open to the Great Beasts page on my iPod for a good portion of working on this issue!
Seriously! It's guys like you who keep the fan community excited about the things we're doing and spreading the word about our work. We really appreciate the support! You have no idea how much!


AlphaFlight.net: I want to thank you both so much for being so very generous with your time. This is honestly at the top of my stack of interviews. I even had to pour a scotch to go with it, it was so much fun. I look forward to the book, and hearing from you both. I invite you to pop in to AlphaFlight.net to say hi to the fans.


Reilly Brown: Thanks a lot, man! It was a pleasure!


Jim McCann: Thank YOU, Ben!