Issue:
Alpha Flight
#2:
Shadows of the Past
/
In The Beginning
Writer / Artist:
The one, the only, John Byrne!
Cover Date:
September 1983
Period in Alpha Flight's history:
Right after Rom #58
OVERVIEW:
The team is in training (except for Snowbird, who has to work), when Marrina goes mad and guts Puck.Then she runs away, in keeping with the policy of 'always run when you hit'.
Shaman, being a doctor, stays with Puck at the hospital. The rest go to the North Pole in search of Marrina, calling out 'Oh fishy fish, fish, where could you be? Oh, fishy fish that dig go, wherever I did go!'. Snowbird ignores her other duties to join the search.
Marrina has an origin (pt1), then meets the Master!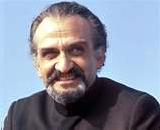 ?
Uh, no:
Take notes, he'll be important later.
In a back-up story, Guardian has an origin (part 1).
James MacDonald Hudson storms out of the office, and runs into his future wife, Heather. Then he breaks into his office later that night, and steals his own power suit, destroying the plans.
What non-fans need to know:
First, you should become a fan. Hunt down and read all John Byrne's issues. The first 8 are in the
Alpha Flight
Classic
trade paperback.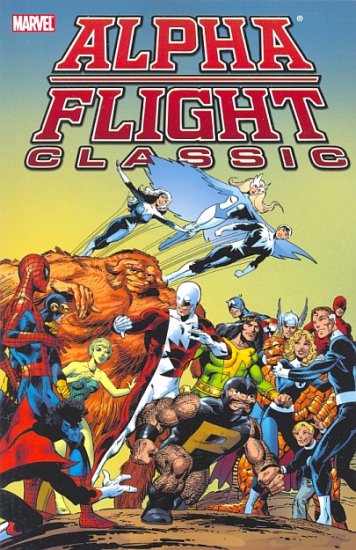 Well?
Okay, if you're not gonna do that:
This arc is one of the few Byrne stories that has most of the original team working together. (#1, #s 2-4, #s 11-12; the original team being the one from Uncanny #120-121.) After that, they mostly had solo adventures or smaller team-ups within the team.
There's a certain amount of in-fighting in the team, and they do make mistakes; but they're ultimately a competent and fun team.
This issue introduces two major villains for the series; The Master and, in the origin Jerry Jaxon, who went on to form the original Omega Flight in #11 and #12. They had quite an impact on the team at the time.
Marrina gets driven mad by her alien biology here. This will happen again in #16 and in the Avengers, leading to Namor becoming a black widower (they were married by then). While she's shown as sweet and nice mostly, Marrina kind of ends up spending more time as a villain than a hero.
Anne McKenzie's (Snowbird's) AWOL from the RCMP will cause her trouble in #6.
She gets drawn into the battle because she senses Shaman invoking the Great Spirit; most of the team gets summoned by implants, Marrina through an amulet she wears.
Sasquatch's snap of anger will be developed into a story later.
We also learn that Shaman is one of the best surgeons in Canada. Retired.
One of the things about this series is that almost nothing was forgotten. Even little throw-away moments become important later.
Good luck tracking down those back issues.
REVIEW:
Let's start at the cover.
It's intriguing. It's got ominous dialogue, and sets up the conflict inside. What's going on? Will she attack Puck? It makes you want to read. The expression on her distorted face makes you think, no.
If there's a problem, it's that Marrina had been in exactly one issue before that - hardly enough time to get to know her before she turns (maybe?) bad.
Why do I love
Alpha Flight
so much? Make no mistake, when I say that I do, these, the Byrne issues, are the ones I'm referring to.
The team feels different to others, but it isn't forced. The characters can be clumsy, they can make mistakes - but they get the job done. They're up to it in the end.
They can be mean, but that isn't the whole of their character. They're not abrasive, but not always sensitive, either.
It's a balance.
John Byrne puts a lot of thought and detail into his work, and creates character-driven stories that are more than just a villain-of-the-month; though they're that, too. He takes time to let us get to know his characters, even when he kind of throws us into the deep end, as he does here.
The colours are bright and welcoming. Even when they're dark or unrealistic, they feel bright and real (which I put on Andy Yanchus, not on John Byrne, who is, I believe, colour blind. And, because there aren't enough ,s between these brackets:,,,,,):
These comics use a full dynamic range to turn dark scenes bright. I can always feel welcome and whole in this world.
The flatness of the style means that when the colours aren't natural, my mind isn't telling me they should be, and there's no cognitive dissonance. I can read it as bright, not 'what is wrong with the light?!?'
The issue takes a little time to introduce us to the characters before setting up the conflict of the issue - then it introduces us to Snowbird.
The real action doesn't actually happen this issue.
There's a lot of detail within; note that the twins' speed energies (!) interfere with Mac's suit.
The characters aren't perfect; there are flaws, and there's conflict. But it feels real, not artificial, tacked-on, "I wannabe bad-ass in-yo-face!". There's a lot of joy between: note Marrina's expression when she splashes Sas. She's playing, having fun.
It helps the reader to want to be here, with these people, and contrasts when things turn bad, and gives you a better world to protect.
Couple of details:
Marrina's age is given as 18 (her origin was 18 years ago, see 'dark' page above).
I don't think I've fully assimilated that it's Dan Smallwood's (and therefore, more or less) grandparents, not parents, who raised them. More parentless comic characters.
Despite what I've said on other threads, Shaman isn't part of the final fight here. Apologies to Fred Van Lente and Greg Pak.
Mac knows the gate guard, and is friendly to him. This sets him up both as a nice guy, and a work-a-holic.
I think, overall, I love that these stories strike a balance - between fantastic and real, light and dark, characters who are nice or nasty. Too far one direction, and it's too far from my world, and I can't get into it. Too far the other, and it's too close to my world, and I don't want to get into it.
This (and a lot of the comics of the time) is beautifully balanced.
RATING:
10/10