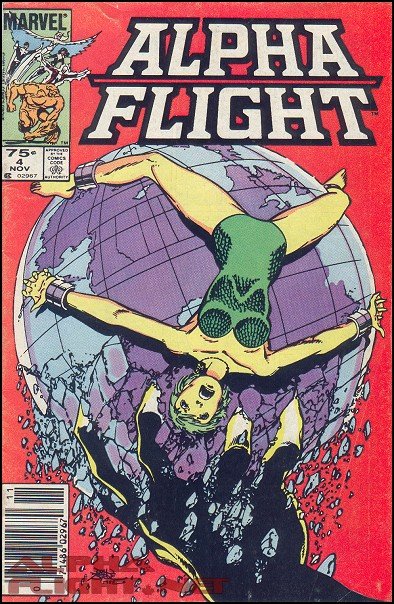 Issue:
Alpha Flight
#4:
Resolutions!
Writer / Artist:
John Byrne
Cover Date:
November 1983
Period in Alpha Flight's history:
After AF #3, before Marvel: Heartbreakers
OVERVIEW:
Invisible Girl and Submariner find their way into the Master's base. Snowbird goes into the Master's base. Sasquatch and Namor comfort Aurora. Marrina gets more origin, but has to share it with her species.
Then the characters get shuffled.
Sasquatch and Guardian meet Aurora, then Guardian meets Northstar, then Invisible Girl and Submariner meet the Master and Margar... Marrina. Then Snowbird meets those four. They all end up in a full house, but my Smith & Wesson beats your five aces.
They blow up the Master's ship - much to his delight.
Marrina runs off with Submariner, and Guardian is left to tell her adoptive family about it.
What non-fans need to know:
As mentioned above, Marrina runs off with Submariner in this issue; this will ultimately lead to marriage and death. But no deals with the devil. yet.
(Their next appearance is in Fantastic Four; #261, I think?)
She had an adoptive brother named Dan Smallwood, who was implied to be romantically attracted to her.
The Master escapes his exploding base, having set up Alpha to destroy it; for reasons as yet unknown.
REVIEW:
I don't like the cover to this one as much as the other two; it just feels more cluttered and less iconic. That said, it's a great concept; a symbolic image of Marrina strapped across a globe, while the Master's claw-like hand squeezes it until it crumbles.
If #2 has a theme of beginnings (and I'm not saying it does), maybe this one has a theme of endings. The end-beginning of the Master and his ship. The end-beginning of Marrina's relationships with Dan Smallwood and the Submariner. The end-beginning of this arc and AF's career. The end-beginning of me reviewing today, and my lunch.
I'm noticing that arrogance is a common trait in Byrne characters; Namor here, Sasquatch and to a lesser degree Puck in #2 (Puck for saying he doesn't need training). Northstar, of course.
There are cool touches of writing; "But she remembers as Jeanne-Marie"; "...when it was not a bear." Those phrases have always stuck with me, even though
Alpha Flight
has never been the most quotable of serieses.
Marrina gets an interesting origin. Though the sweetest, most innocent of characters, it turns out she's from a race of conquerors, the Plodex (who remain unnamed until
Marvel Team-Up
Annual #7, in a retelling of this origin.) They copy the DNA of the dominant lifeforms of a planet they conquer - which does lead me to ask, just how much is it the Plodex conquering? Wouldn't they be unrecognisable to their own kind?
Like the rest of the series, this story has images I'd describe as iconic.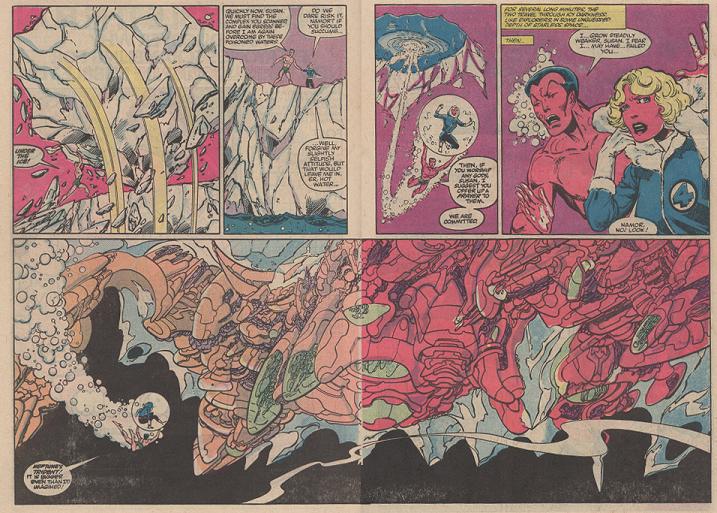 This image is largely what led me to recognise the issue's cameo in
Red Dwarf
, though it was small and hard to see. The episode is
Body Swap
, and I present to the jury a screen grab taken at 7:38. Observe the same white curve against an orange and black background. (The linked-to thread contains more evidence, including clear images of both twins.) The figure to the right of the page is a poster on the wall behind him: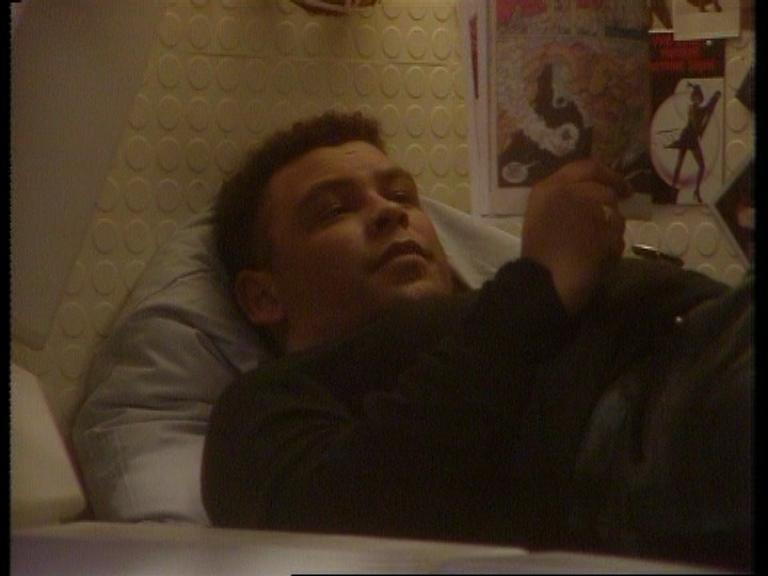 I've been throwing around the word 'iconic' a lot. That's one of the reasons it took me ages to figure out which comic I was looking at in
Red Dwarf
. It was so exemplary of the comic book form, to me, that's what comics look like; they look like
Alpha Flight
, volume 1, issue 4; so of
course
that's what a comic looks like when Lister reads it. It took a long time for me to twig that what I was looking at actually
was
this issue. (These thoughts happened on an instinctual level, not in word form.)
Also, be glad if you're reading it in the trade (
Alpha Flight Classic
#1 or
Fantastic Four Visionaries: John Byrne
#4) :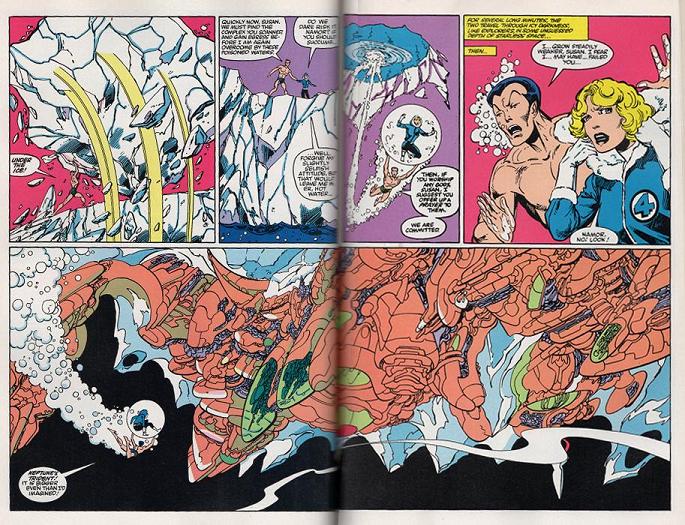 See how much better and less red the colours are on the right page? (printing error in the original)
Also, note the way you can see the effects of Sue's invisible force field, but not the
invisible
force field itself. That kind of work and detail is what I love about Byrne.
The bit at the very end, with Mac telling Dan about Marrina is great. It's the kind of nice, personal touch that's so often neglected, and reminds you that you're dealing with people.
The origin story for this issue is non-existent.
No, really. It's one of two single-digit issues that just didn't have one (the other being #1). So I won't comment on it.
RATING:
10/10